Who is Chris Allen?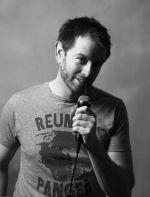 Well, he's a Vancouver based stand up comic who has been trying to make people laugh at venues all over the city for over 5 years now. He's performed across the country and he could end up coming to a town near you if things keep going the way they have been.
Chris has long watched comedy from the sidelines and wondered if he could get up there and do it himself. He spent his 20s working at being an actor and writer before eventually settling into a corporate job.  He began to get the itch to perform again and decided that stand up was the best way to marry his love of performing with his love of writing. 

After taking a course put on by local funny woman Janice Bannister and her course at Laughter Zone 101 he got on stage at Lafflines in New Westminster and managed to crank out some solid laughs. He was completely hooked at that point and has been getting on stage every week since.  His comedy is based on his observations of life around him and his humourous and sarcastic slant on them.

His first year in comedy saw him make it as a Vancouver finalist in the SiriusXMs Canada's Next Top Comic competition, narrowly missing a trip to Toronto for the finals.  He also scored an opening gig on Labour Day weekend for stand up veteran Patrick Maliha.  He finished his year by co-hosting his own monthly comedy show at the Anza Club on the last Sunday of each month.  
His second year saw his stage presence mature as he continued working the local clubs and bars. He was regularily an MC at comedy shows and headlined his first show. He reached the semi-finals in Canada's biggest prize money competition - The People's Champ in the Summer of 2012 and went on to do a show at the Toronto Yuk Yuks that Fall.
Year three Chris continued to grow, performing regularly at Lafflines, the Comedy Mix and Yuk Yuks as well as various bars around Vancouver.  He had a strong finish of 4th in the People's Champ of Comedy, a summer long competition that started with 45 comedians.  His performance in front of a crowd of over 500 people at the Rio was a highlight.  He also was selected to perform in Sirius XM's Canada's Next Top Comic again, narrowly missing advancing. He also began hosting a weekly night at Falconetti's East Side Grill.
His fourth year saw the Falconetti's show continue on into the dog days of Spring and eventually after a move downstairs it was time to call it quits for the Summer.  He performed a feature spot in Kelowna and shows in Toronto as well.  He did the People's CHamp and ended up on stage at the Rio again performing for a packed crowd. 
Year 5 saw a continued development of new material and regular showcase 10 min sets at Yuk Yuks.  Chris also became a new father and took a break from comedy to raise his little boy Zavier.  
Now as his 6th year begins he's back with new material based on his experiences as a reluctant new parent.  This could be one of the best phases of his career.