Advancing to the Semi-Finals in the People's Champ
July 13, 2012 at 1:51 PM
Last night was the 4th night in a row of doing comedy as part of the People's Champ.  It was a long week and saw a number of people moving in and out of the top 4 who would advance to the semi-final round. I had a strong Tuesday but my Monday and Wednesday were nothing to write home about. Heading into Thursday though I knew I had a shot at it still based on the mathmatics of the situation.
Those mathematics got much better when it turned out that Graham Clark would not be performing at the Sin Bin on the final night. He was in the top 4 after 3 nights but would drop out without the points from the final night. That gave me hope. That and the fact that I got a shit ton of friends out including some real randoms that I was so happy to see. People who have never seen me do comedy even were out. Too many names to thank on here but you know who you are. 
Luckily they were also of the drinking variety (one drink = one ballot) so that helped too. I went up 8th and had I think my strongest performance of the evening. Got a ton of laughs in the packed house. I'm glad the Fire Marshall didn't happen to stroll by last night. Would it be enough though?
I was nervous as hell as the counting of the ballots took over an hour. Patrick came out and let everyone know that 4th place was decided by 2 votes. 2 Freaking Votes! This is in a contest where you needed 500 votes to even be considered for top 4. When he called my name I was ecstatic! Yes I was moving on and yes thank you for the $100 prize. In 5th place was Aimee Beaudoin who actually went over on time night one and lost 20 points and gave me a lot of second place votes from her friends. I felt bad for her as she could have been in that spot instead of me.
I couldn't stay to celebrate long as it was now 1AM but man that was a great finish.
1. Shirley Gnome: 798
2. Dan Quinn: 692
3. Ash Dhawan: 547
4. Chris Allen: 503
Wildcard: Tiberius Swanker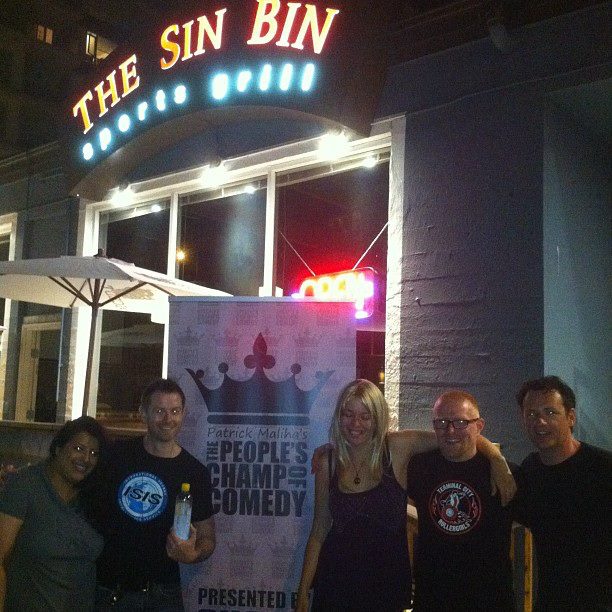 Tags:
Category:
Please add a comment
Leave a Reply